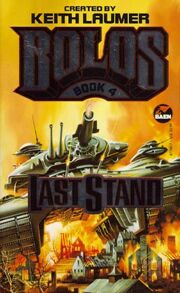 | Author | S.M. Stirling, David M. Weber, John Mina, William R. Forstchen, Robert Greenberger, William H. Keith, Jr., Todd Johnson, Steve Perry, John DeCamp, Mark Theis, Linda Evans |
| --- | --- |
| Published | 1997 |
| Contents: | The Sixth Sun, The Traitor, Yesterday's Gods, Memories of Erin, Hold Until Relieved, A Question of Valor, In the Flesh, And Don't Come Back, A Time to Kill, A Brief History of Human Expansion Beyond Concordiat Space |
Bolos:Last Stand was the part of a series of Baen collections adding new stories to the Bolo universe.
Ad blocker interference detected!
Wikia is a free-to-use site that makes money from advertising. We have a modified experience for viewers using ad blockers

Wikia is not accessible if you've made further modifications. Remove the custom ad blocker rule(s) and the page will load as expected.