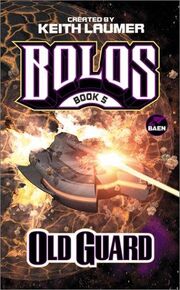 | Author | Mark Thies, John Mina, J. Steven York, Dan Wesley Smith, William H. Keith, Jr. |
| --- | --- |
| Published | 2001 |
| Contents: | |
Bolos: Old Guard collects four stories all dealing with the war between humanity and the Kezdai , a relatively small conflict contemporary with the Melconian War.
Ad blocker interference detected!
Wikia is a free-to-use site that makes money from advertising. We have a modified experience for viewers using ad blockers

Wikia is not accessible if you've made further modifications. Remove the custom ad blocker rule(s) and the page will load as expected.