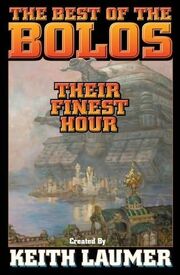 | Authors | Keith Laumer, David Weber, S.M. Stirling, Mercedes Lackey, Larry Dixon, Linda Evans, David Drake, William H. Keith |
| --- | --- |
| Published | 2010 |
| Contents: | Combat Unit , Lost Legion , A Time to Kill , Operation Desert Fox , The Last Command , Little Dog Gone , As Our Strength Lessens , The Traitor , A Relic of War , Hold Until Relieved |
The Best of the Bolos: Their Finest Hour is a collection of short stories by a number of well-known Baen authors added to some of Laumer's original short stories.
Ad blocker interference detected!
Wikia is a free-to-use site that makes money from advertising. We have a modified experience for viewers using ad blockers

Wikia is not accessible if you've made further modifications. Remove the custom ad blocker rule(s) and the page will load as expected.